Welcome to the Sneak Attack Podcast Wiki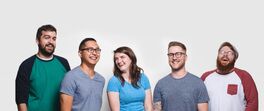 Sneak Attack! is an actual play D&D podcast born in the summer of 2015. Since then, these five friends have been playing this home brewed campaign in an attic while they tell a story of adventure, wacky characters, terrifying enemies and the tension of being an adventuring party amidst conflicting interests. Listen to their episodes weekly to delve deeper into the world on Brannis and explore the escapism of Dungeons and Dragons.
Volumes
The Gang has made two volumes so far: Volume 1 features the Gang adventuring through the homebrew world of Brannis. in a classic D&D adventure. Volume 2 features the Group playing as intrepid space adventurers-for-hire in the Arrowhead galaxy playing an exiting hand-crafted system.
Volume 1 - The Heroes of Highrock
Sneak Attack!'s first campaign became known as the 'Heroes of Highrock'. The campaign, now complete, features the party exploring the magical world of Brannis. The series covers the party meeting as acquaintances and follows them as they quickly learn to work together to stop the growing power of the Princes of the Apocalypse. Join the party in this completed epic fantasy adventure at SneakPodcast.com, or through any podcast provider.
Sneak Attack! Volume 2
Join a new cast of characters in space as they blast off to the Arrowhead galaxy! In this ongoing adventure, the Gang plays a crew of unlikely heroes as they wrestle with keeping their cargo, crew and comfort balanced. Sneak Attack! Volume 2 is an original sci-fi adventure and the current airing volume of Sneak Attack! You can listen by heading to sneakpodcast.com, or through any podcast provider.
Pages
Latest activity
Community content is available under
CC-BY-SA
unless otherwise noted.